How To Purchase the Right Marine Lithium Battery Charger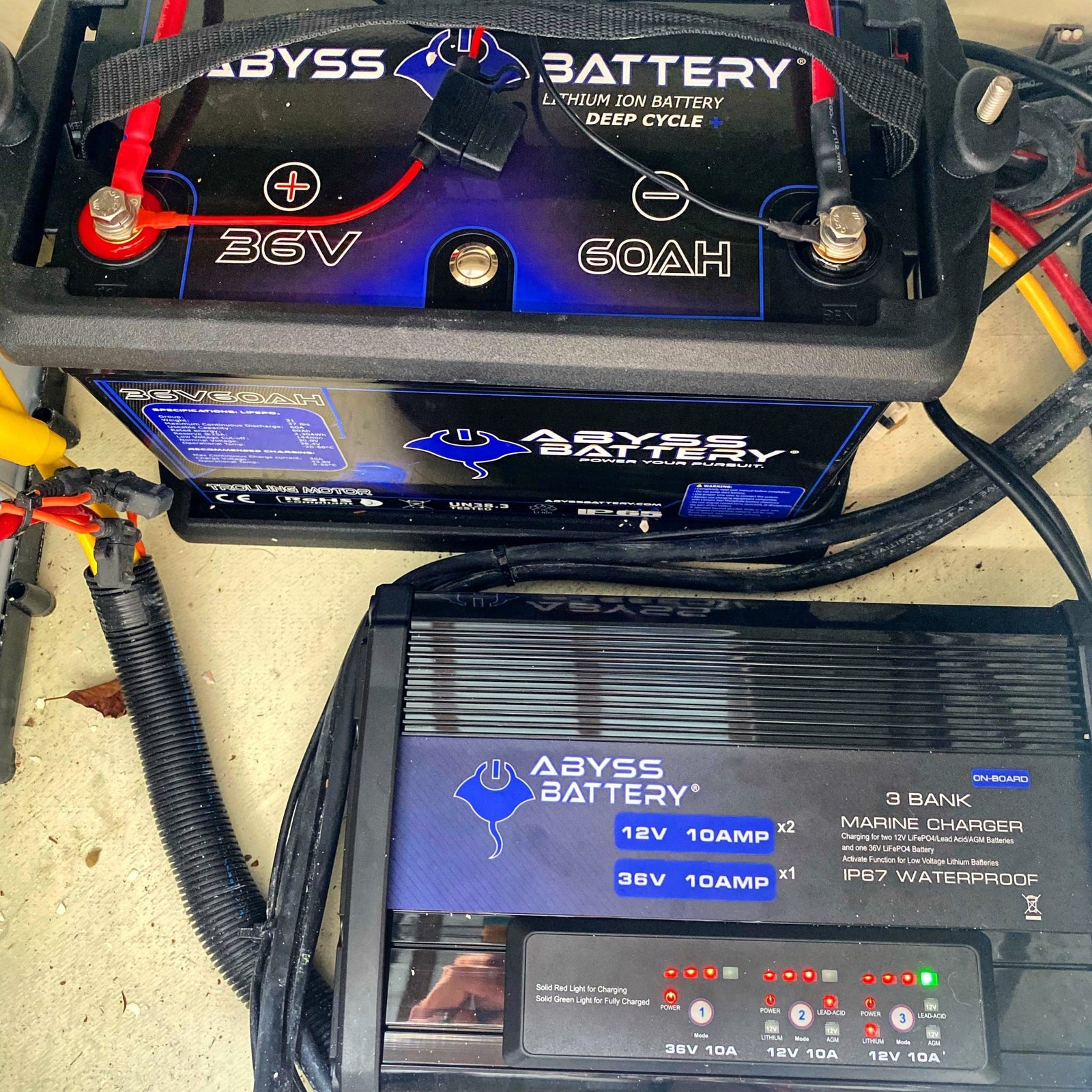 If you own a boat, you likely know the struggle of making sure the battery or batteries are ready to go when you need them. An uncharged or low charge battery can be a nightmare if you planned to spend some time on the water. While the choice of your battery is a crucial decision, you also need to consider the charging process and how you'll go about making sure the battery always has the correct charge. Marine battery chargers have a few unique things to offer when you're trying to decide on the right one.
Here at Abyss Battery, we don't just offer the best and most reliable batteries for your boat, we also offer you durable and safe battery chargers. Are all marine battery chargers equal regarding important things, such as weight and amperage? For the most part, the answer is no. You'll need to decide what is most important to you so that you know where you're okay with making a tradeoff. We will dive a little deeper into how you can purchase the right marine battery charger, specifically for Abyss Battery's lithium-ion models. Not only are our batteries more reliable, but the chargers we supply you with are just as good at what they do, helping you stay out on the water as long as you want.
Why Do You Need a Marine Lithium Battery Charger?
Besides the obvious fact that you can't do much boating without a charged battery, you might wonder why you need a special charger for a marine battery. While it's possible to charge marine batteries using standard, everyday chargers, it's certainly not the most convenient method of giving your batteries the juice they need. Marine battery chargers are far more suited to being near water on a regular basis. Our lithium-ion battery chargers come prepared in the correct charging profile for our batteries, which isn't always the case with chargers that aren't made for marine lithium-ion batteries.
Consider the Charger's Lifespan
Just like the batteries themselves, your marine battery charger has a lifespan you must consider. A mid-range battery charger can get the job done in most cases, but it really comes down to how often you're on the water and how much you push your battery's charge. If you're using your battery consistently, it might be worth the extra cost to get a reliable charger that will last a long time. This investment can save you money in the long run as you won't have to pay for frequent replacements.
Water Resistance Is Key
It's no secret that electricity and water don't mix, which is why marine battery chargers need to have special casings and mountings that allow them to repel water and protect the internal components from moisture damage. Your boating habits might affect your decision in this regard, especially if you're out on choppy waters regularly. If you're used to a much more leisurely pace, you may not need to shell out for a heavy-duty charger. Wherever you get your charger from, always make safety a priority. Protecting the charger from water sprays is important. Remember that mounting the charger correctly also prevents condensation from forming around it, which protects it from water damage that may not be as obvious as a large splash.
Keep Weight and Size in Mind
If you're looking to purchase the right marine lithium battery charger for your boat, you'll need to consider the weight it can handle. Smaller vessels don't necessarily have the extra leeway to take on something super heavy without slowing them down. You also might not have the space to store it properly. This is why many people opt to mount their battery charger somewhere out of the way. Weight is something you always need to consider on a boat. The larger your boat is, the less likely it is that your battery charger will take up a significant amount of that weight.
Focus on Amperage for Speed
Are you looking for the best way to charge your marine lithium batteries quickly? In that case, you'll want to look for a marine lithium battery charger with a high amperage. While it's important to have the right voltage for your marine battery charger, the amperage will tell you how quickly the battery will charge. The good news for smart boaters who rely on lithium-ion batteries is that marine battery chargers have more amperage compared to lead-acid batteries. Lead-acid batteries can only handle a small fraction of the amperage that lithium-ion batteries can. Higher amperage in your battery charger can get your lithium-ion battery up and running much sooner, and get you back out on the water with less downtime.
Look for Warranties
When you're installing something as important as a battery charger into your boat, ensure you're making a safe investment for the future of your boating life. Be wary of getting a marine battery charger that doesn't come with an extended warranty. No matter how good the charger might seem, anything can happen to it while on the water, and you want to be sure you're not being taken advantage of. Abyss Battery chargers come with warranties that will put your mind at ease about making the investment.
Multiple Chargers for Multiple Batteries?
If your boat has multiple batteries, does that mean you should have more chargers for them? The decision is ultimately up to you, and you can base it on the frequency you prefer to charge. You don't need to buy individual chargers for every battery on your boat, but you can if you want to ensure all your batteries are ready to go at the drop of a hat. On the other hand, you could buy one charger with enough voltage to handle multiple batteries at once. The choice is ultimately up to you, though many boaters may tell you they prefer one large charger over multiple smaller ones.
Abyss Battery wants to make your life easier so that you can spend more time doing what you love. You shouldn't have to agonize over your batteries, their chargers, or if you'll have enough power to stay on the water as long as you want.
---