Endless Exploration Begins In The Abyss
POWER YOUR PURSUIT™ WITH ADVANCED LITHIUM MARINE BATTERY TECHNOLOGY
At Abyss Battery®, we are experts at engineering performance-driven lithium batteries for the marine industry. Our renowned products have made waves around the world, used by dealers and OEM boat builders alike – yet nothing stops us from pushing further to develop even greater solutions! We're not just another battery company; we're a group of people who believe in pushing boundaries, conquering new territory, and creating change. We live to create innovative solutions that empower you to go farther than ever before — no matter where life takes you.
Lithium Marine Boat Batteries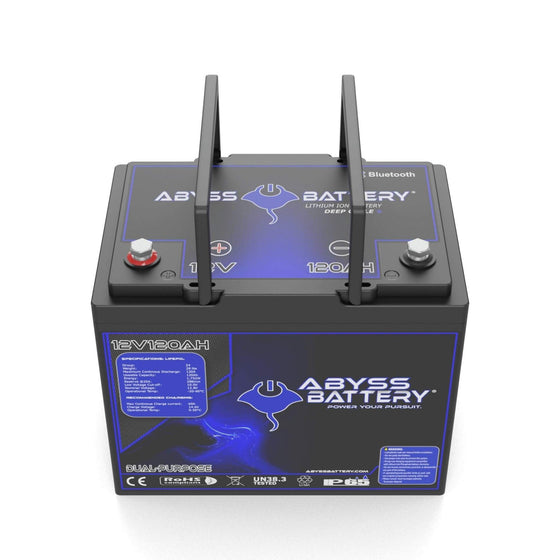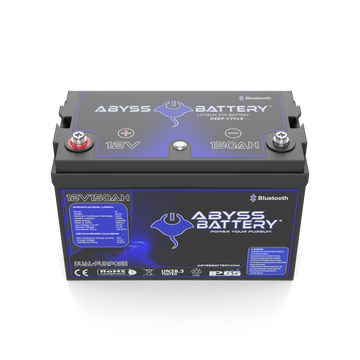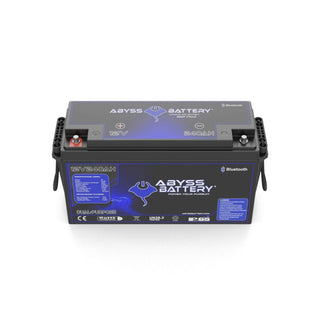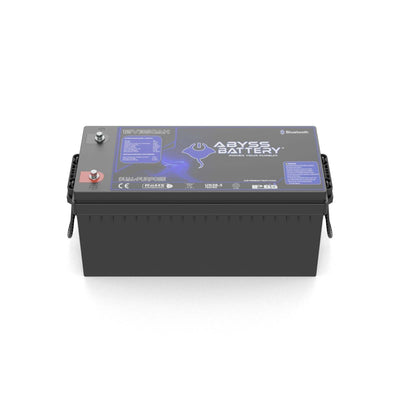 All The Power You Need, At a Price You Can Afford. 
The Ultimate Starting & Deep Cycle 12V Marine Battery Solution
When you need a battery that can do it all, choose an ABYSS. Our 12V Dual-Purpose LiFePO4 boat batteries are designed for cranking outboard motors and deep cycle applications, perfect for any boat- Trust the expert marine battery manufacturers.
Shop 12V Lithium Batteries
Streamline Your Angling Experience: No More Cords, No Extra Batteries
Revolutionary Portable Electric Fishing Reel Batteries
Experience the freedom of uncluttered fishing with our plug-and-play Portable Lithium Electric Fishing Reel Batteries. Perfect for kite fishing and deep drop bottom fishing, our innovative batteries eliminate the hassle of under-gunnel installations and prevent cord tangles and trips. Say goodbye to carrying extra batteries on your boat deck. Boost your fishing efficiency and focus on what truly matters - the catch
Experience Faster charging times and longer run time.
Get More Power For Your Boat Without Sacrificing Space
If your boat is limited on space, suffers from a lack of power or fuel efficiency, and you want to increase your boats performance with dramatic weight savings - then check out our new marine battery systems!
These lightweight lithium marine batteries charge faster than traditional lead acid solutions while also providing longer run time between charges. The perfect solution for boats that need more oomph without the accompanying bulk needs in order to operate at optimal capacity.
Unrivaled Construction.
More Current and Capacity In a Smaller Size
Our lithium iron phosphate batteries demonstrate the highest safety performance in the industry while also offering increased current, capacity, and durability in a smaller size. Abyss Batteries are more reliable and safer than comparable brands because they cannot short out due to our design construction.
Cell holders within our batteries provide a more robust stable, and firm internal structure that protect and separate every cell to avoid any circuit short risk caused by extreme vibration or impact.
Stay In Control Of Your Boat's Power!
Intuitive Bluetooth® Battery Features
Keep your boat running smoothly and stay up to date on the latest software updates with our New Bluetooth® Lithium Batteries. Monitor your battery in real time with our easy to use app for your Apple® or Android™ device - The best connection for boaters and fishermen.
Lithium vs. AGM Batteries
Unrivaled Efficiency
Abyss vs. Lead-Acid, better for the environment and your wallet. Compared with traditional battery technology, Abyss batteries charge 50% faster, last longer, are lighter, and have 2X the power density for more battery life in the same size and shape as lead acid. 
Proven Reliability and Performance.
Drop in Battery Replacement
Upgrading your current marine battery system is a fast and easy conversion. Abyss Batteries are designed to be a direct drop in replacement for AGM and lead-acid batteries.
ONE ABYSS 36V Lithium will replace THREE 12V Group 31 Marine Deep Cycle AGM Batteries in series to power your 36V trolling motor. If you need more power or voltage for larger boats and electrical systems, our batteries can be wired in series and parallel tailoring to your needs.
Don't take our word for it
"I run a 22' ft Yellowfin hybrid with a 112lb 36 Volt Minn Kota trolling motor. I fished the 36V60Ah Abyss for 7 days in the Louisiana marsh and could not kill it while pre-fishing for the 2020 IFA Championship Redfish Tour. On tournament day the wind blew 20-30mph and I was heavy on the trolling motor the entire time. I never worried about losing the trolling motor and I only had to charge the battery once for a few hours back at the camp. With the confidence I had in this battery I pushed the limits and ended up finishing 2nd in the tournament! If you are looking to upgrade your batteries, increase your performance and save some serious weight (Over 200lbs in my boat) you need to check out this battery. Another awesome feature about this Abyss compared to other lithium brands is the fact it "floats" fully charged at about 40.5 volts instead of 43. That means you aren't overpowering your 36 volt motor just giving it what it needs. I think long term this will mean longer motor life."
I have worked with this company first hand, as a nation wide marine service company, since the inception.The push to produce the highest quality product, the complete dedication to customer service and growth, personable communication, it's all been far more than I expected. Our standards at my marine company are very high. Abyss has gone above and beyond.You want a battery with a company who actually answers the phone? A warranty you can count on? Quality and standards that are actually taken seriously? You found the right place.You want a cheaper battery with poor customer service, zero networking and save a few dollars? That's out there too.I'm here to tell you after thousands of installs this is the best company there is out here. This review should be like 1,000 reviews.Hats off to the whole team at Abyss. P.S. Doug the dog is my spirit animal! Thank you all so much for all the amazing products and amazing support through the years!
"These Abyss Lithium batteries are Legit! I know a lot of anglers that have been on the Lithium train for a while now, but it took me a while to get on board. I am now a believer! My Abyss 36V lithium battery had my Minn Kota 112 Terrova running stronger and smoother than it ever has, and my trolling motor is only a year old. Ran it hard for 9 hours in 15-20 mph winds and never lost ANY power or efficiency. Not to mention the clutter and weight (151 lbs) I got rid of by eliminating the three agm batteries for one lighter (33.7lb)battery. If you are looking to get on board the lithium train, I highly recommend Abyss Batteries." 
I'm an inshore/offshore guide out of Anclote. I use my trolling motor more than anything. I wasn't sure about switching to lithium because of the price, but I was due for some new batteries and I figured you can't beat the extended warranty. The advantages of having one battery over three increased my fuel burn in my shoal water from 2.1 mpg to 2.4 mpg. Not only that but I gained just over 2 mph in hole shot speed. My Minn Kota 36V Ulterra with a lead-acid set up would last me around 5 1/2 hours on a charter and would die on me at the end of day if I ran a double header. Now with the Abyss 36V 60Ah I can run two full day charters back to back and still have more than half of the battery capacity left. This battery is a total game changer."
"The Moment getting done talking to Nick about his company, Abyss Battery. I knew that being on the water everyday I had to make the change. I grind everyday for a living and it takes a toll on my gear. It takes a beating, especially my batteries. The true factor on getting you out on the water as well as making sure you get back home without having any battery problems. I run a Rhodan marine 36V 72" in shaft Trolling Motor almost everyday and having batteries drained halfway through a trip is unacceptable. But with switching over to Abyss Batteries I have yet had to keep my Yamaha motor running while on wrecks in current to keep the batteries charging and to make sure my main motor turns over. Thank you Nick and Abyss Battery for all you do, for keeping us fully charged running 110%. Make the change! "
SHOP MARINE LITHIUM BATTERIES
Let customers speak for us