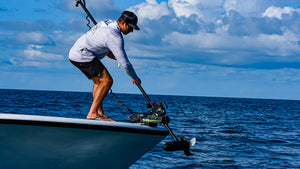 Discover The Best Trolling Motor Batteries
That Match the depth of your needs.
Trolling Motor Lithium Batteries
In the landscape of lithium batteries, not all are created equal or deliver consistent performance. At Abyss Batteries, we stand out by delivering superior capacity and amp-hours, all in a compact casing, without compromising performance in our specialized lithium trolling motor batteries. What differentiates Abyss batteries from the competition is our proprietary software and meticulous design construction. These unique elements endow Abyss batteries with an unparalleled advantage over our rivals. Integrated with pre-configured artificial intelligence, our lithium trolling batteries are capable of comprehending their usage patterns across every charge and discharge cycle. This extraordinary capability allows our batteries to learn and evolve under various operational conditions. As a result, they continually improve their efficiency over time. Our marine lithium batteries, therefore, offer an incomparable benefit for boat owners, captains, and professional tournament anglers. Their remarkable adaptability and long-term efficiency make Abyss batteries a superior choice for marine applications. Through relentless innovation, we consistently strive to redefine the benchmark for lithium batteries in the marine industry.
Dramatic weight savings, perfect for smaller boats.
24V Lithium Trolling Motor Batteries
If your boat is limited on space, suffers from a lack of power or fuel efficiency, and you want to increase your boats performance with dramatic weight savings - then check out our New 24V deep cycle marine battery systems!
These lightweight marine batteries charge faster than traditional lead acid solutions while also providing longer run time between charges. The perfect solution for boats that need more oomph without the accompanying bulk needs in order to operate at optimal capacity.
Power your boat longer, faster and more efficiently. 
36V Lithium Trolling Motor Batteries For Spot Lock Anchoring
We designed our batteries for the fisherman who spends more time on their boat than at home. Our 36V lithiums are perfect when you need power in all conditions and can take whatever mother nature throws your way, from calm weather to heavy winds! Our wide selection of 36V deep cycle marine batteries will back you up all day, even with load-heavy consumption. Ideal for deep cycle applications in diverse marine environments, seasons, and temperatures.
This video will show you how to choose the right battery for your boat. With so many options on the market, it can be difficult to determine which is best for you.
Let customers speak for us