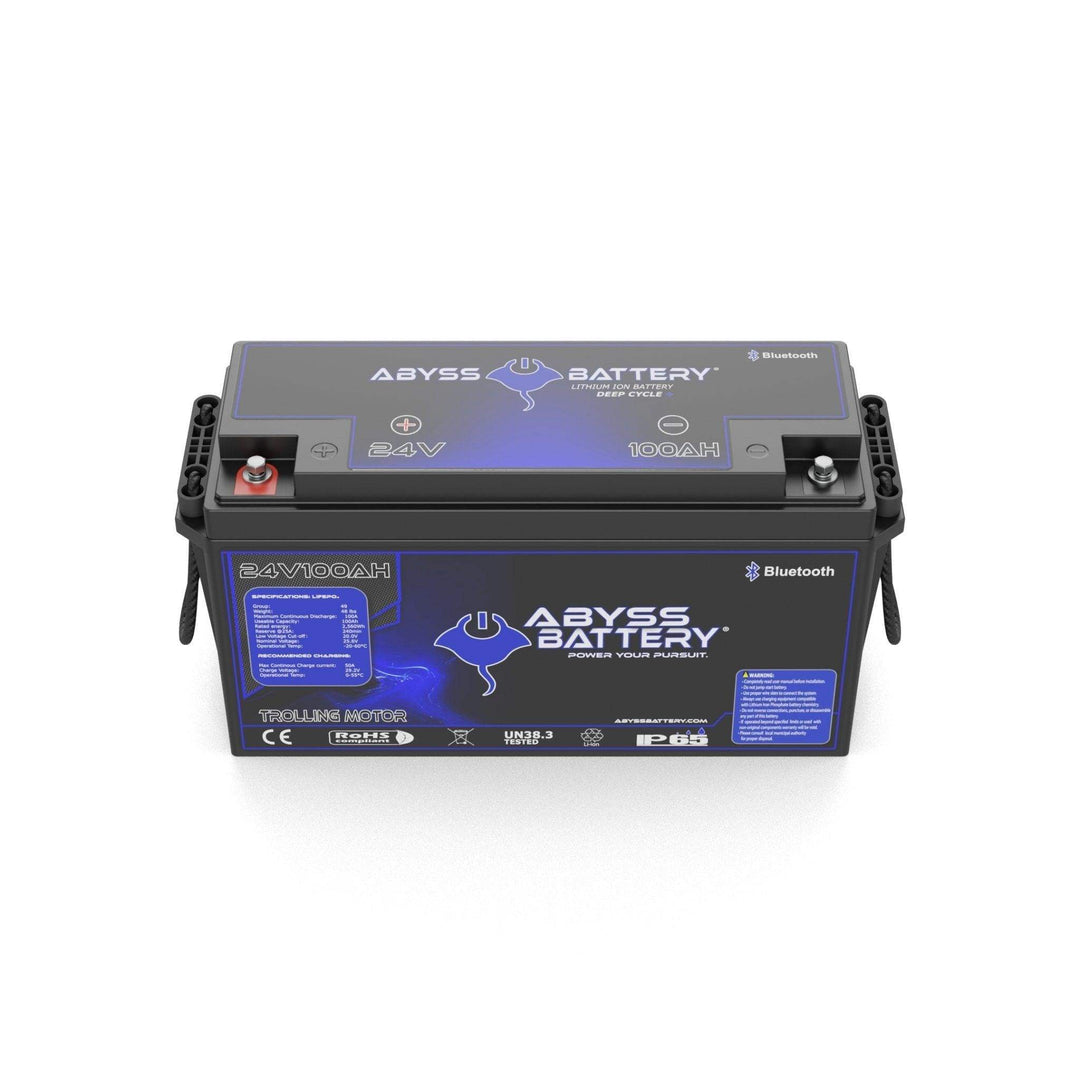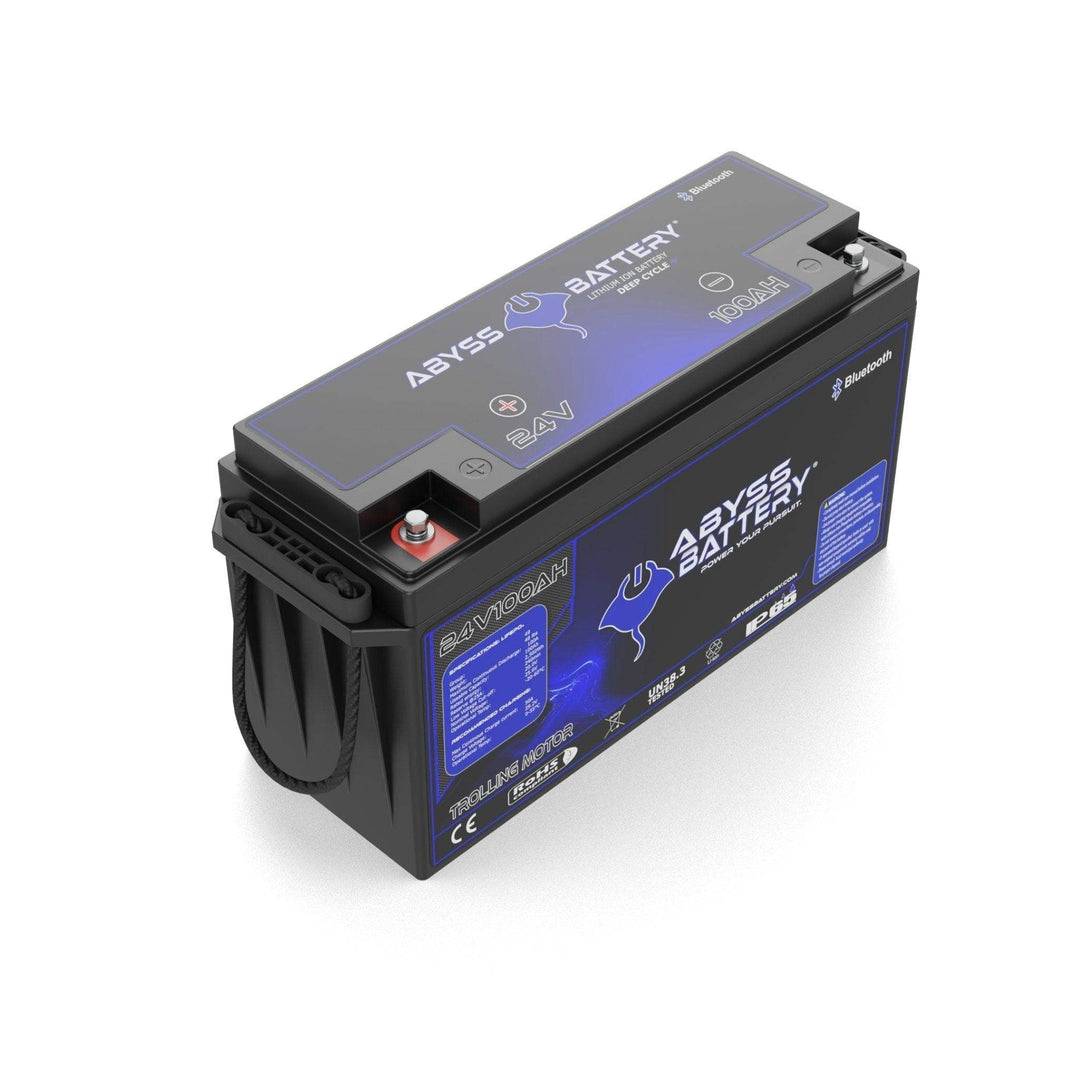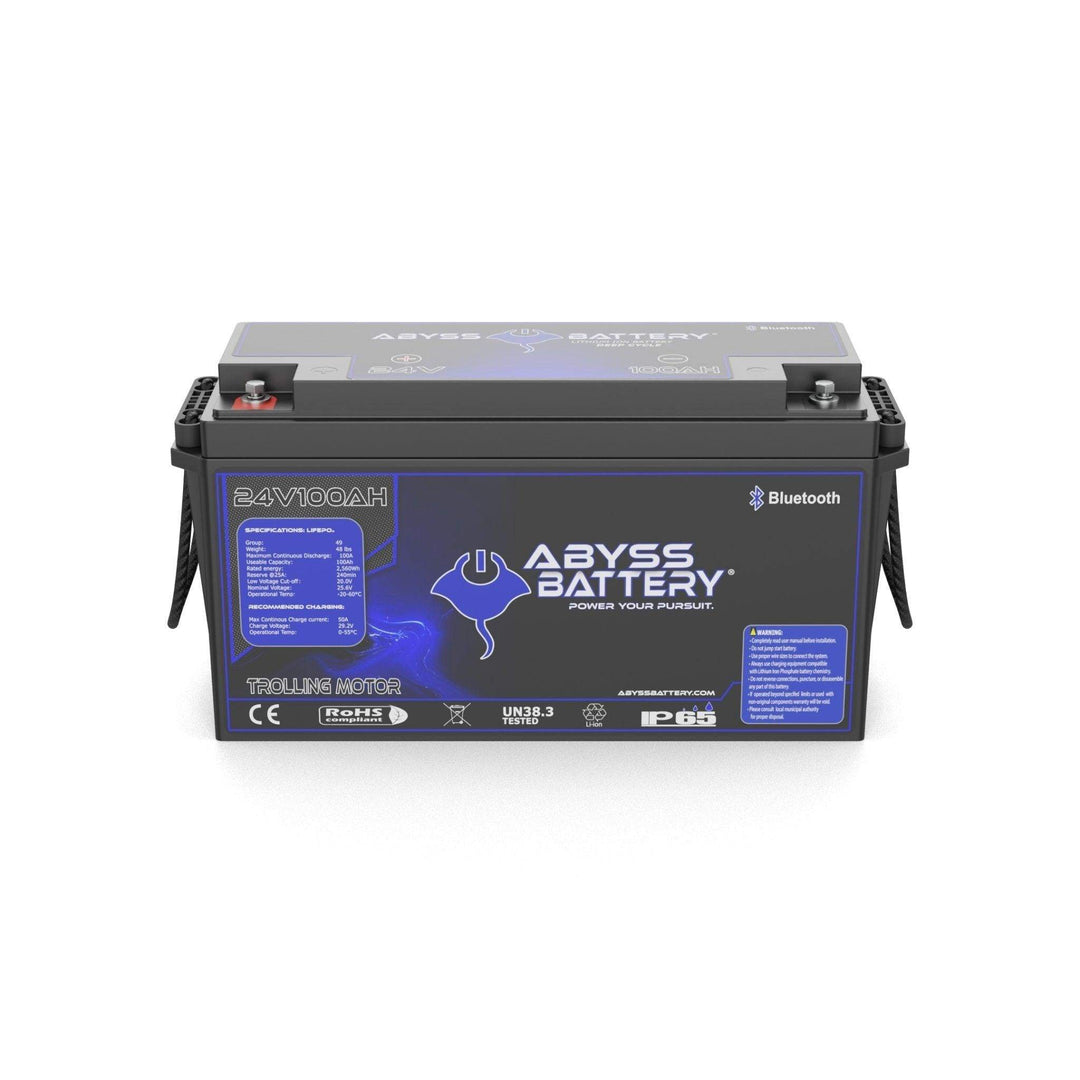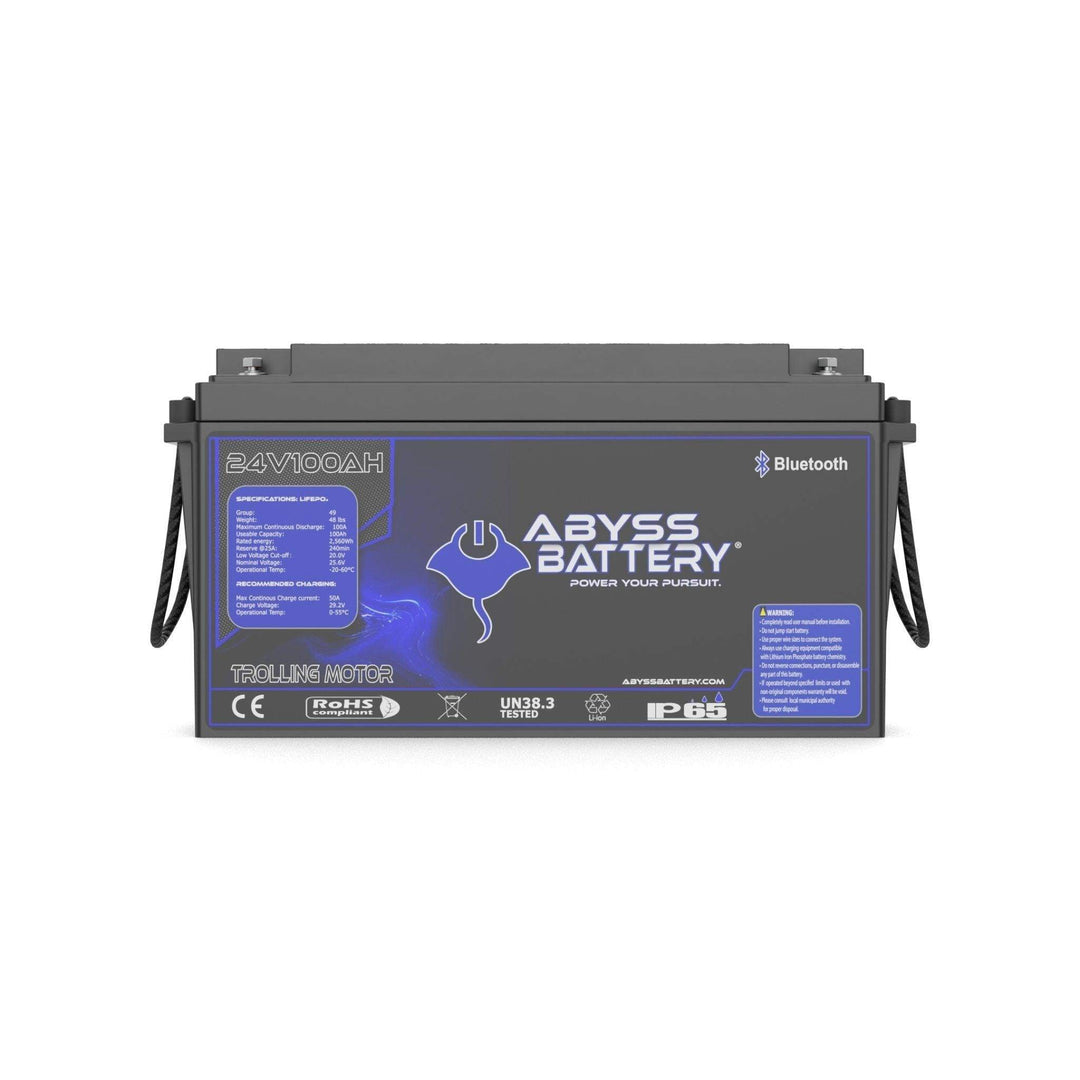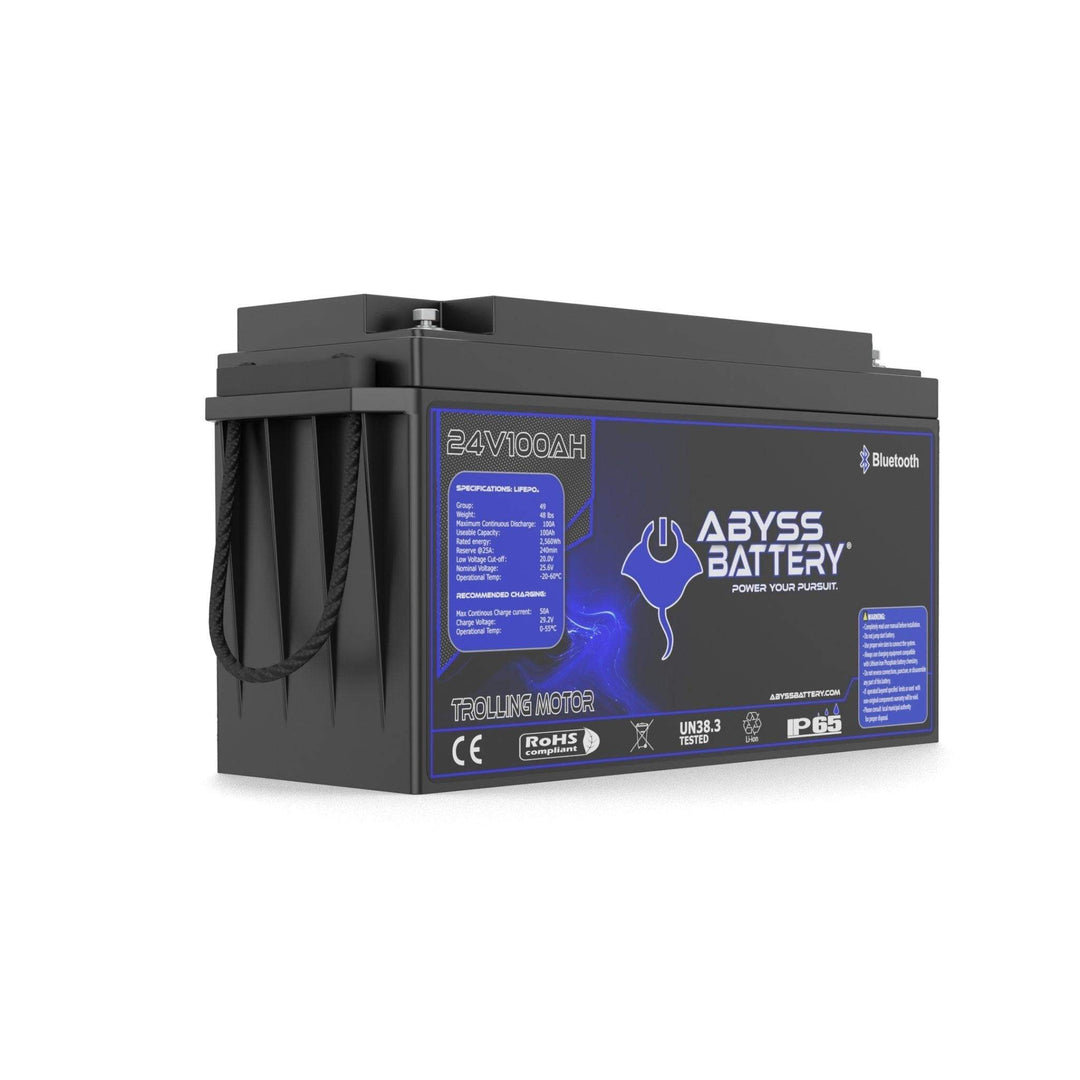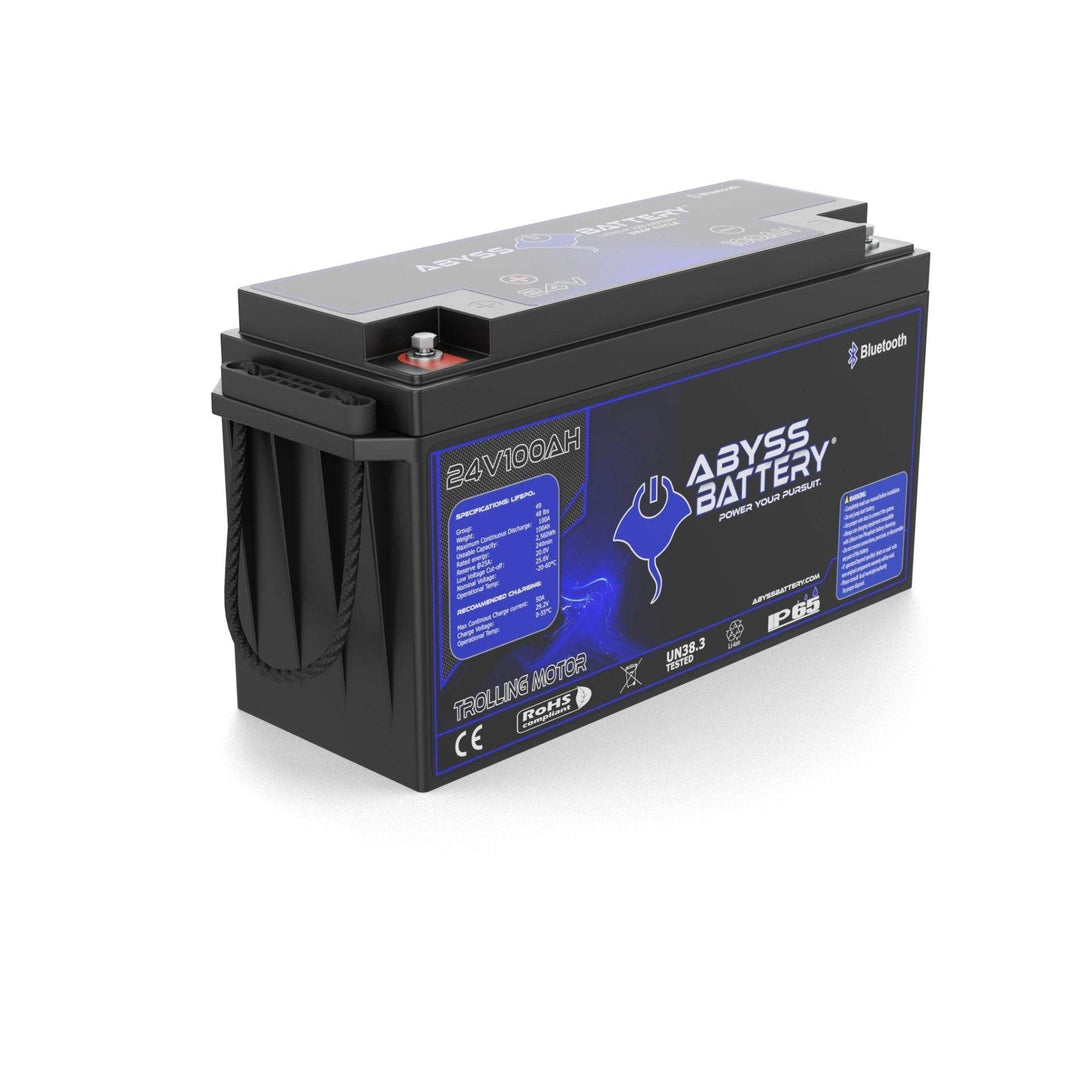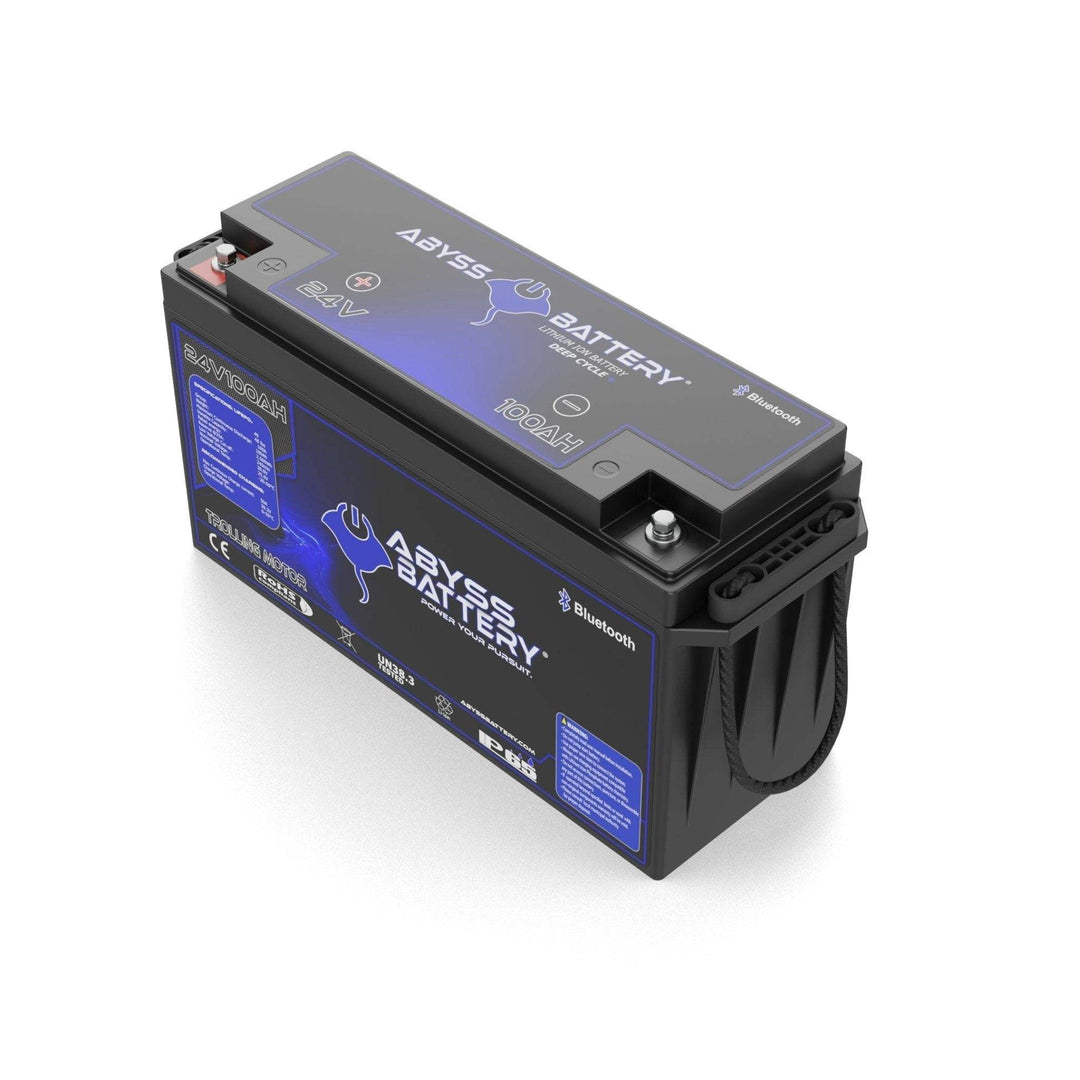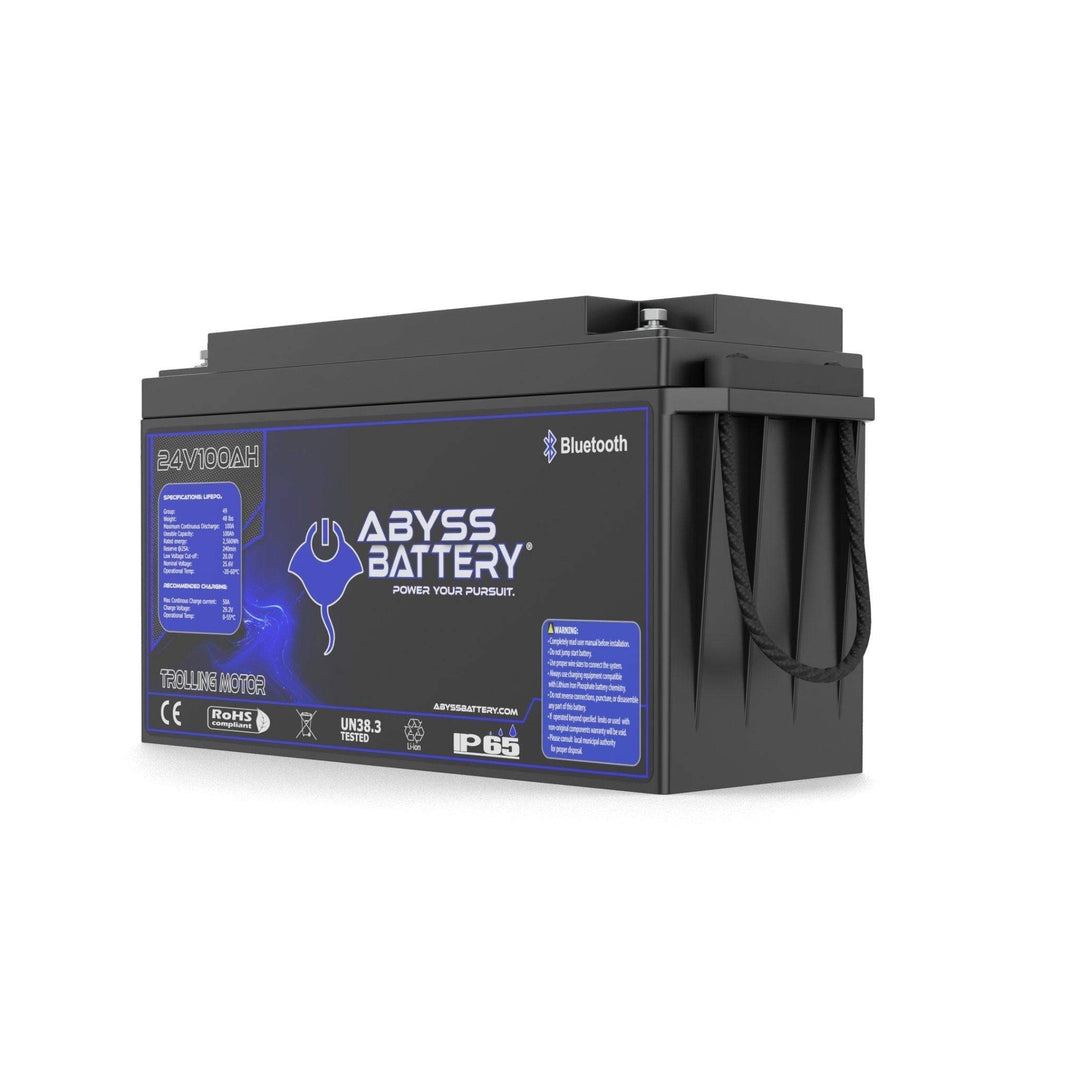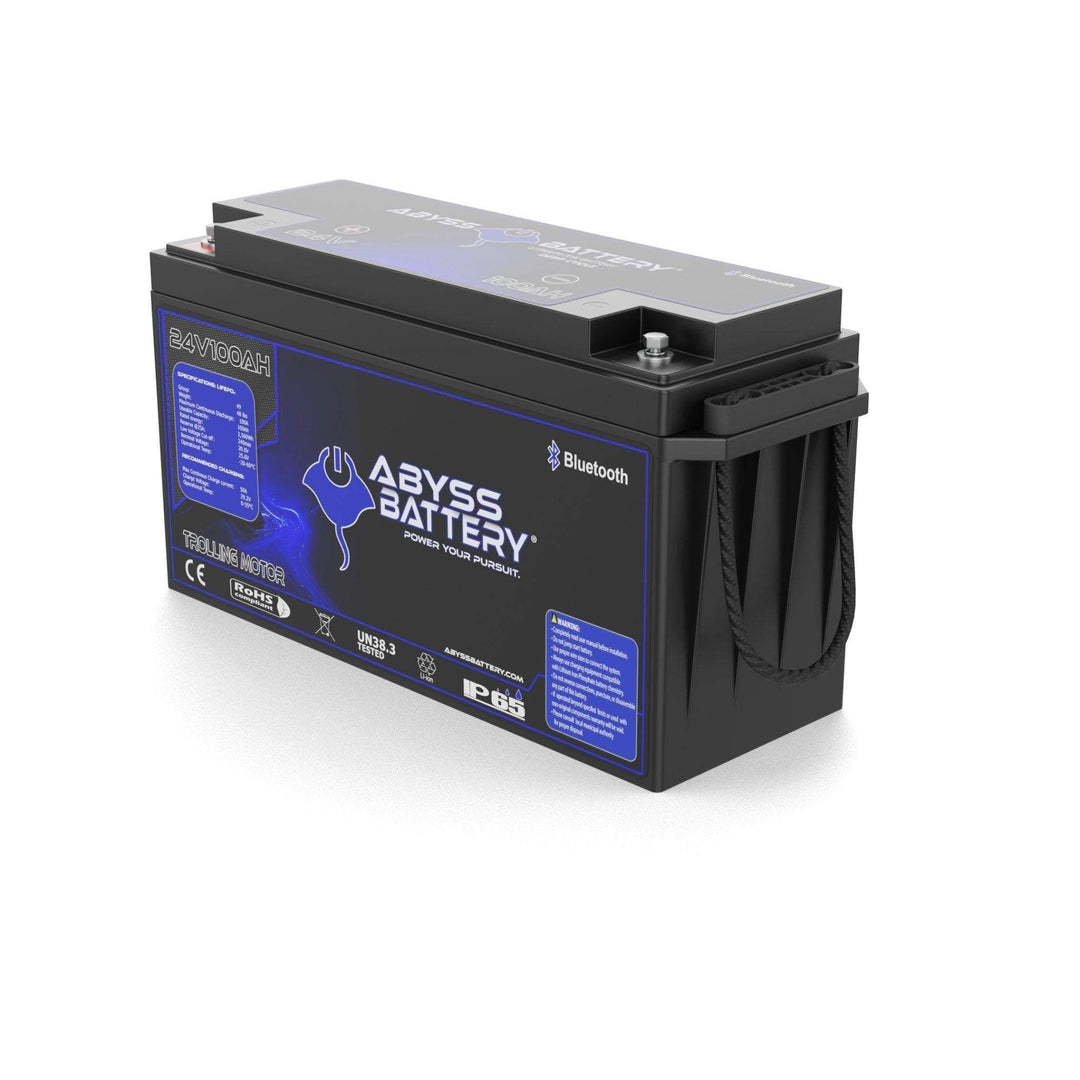 ABYSS® 24V 100Ah Lithium Trolling Motor Battery
AB-24V-100-BT
Low stock - 1 item left

Inventory on the way

Safe
RoHS
Compliant

5-year free replacement warranty

30 day risk
free money back guarantee

UN/DOT
38.3 Hazmat
Approved
Tired of having to constantly recharge your trolling motor battery? What about that lingering fear of your battery dying in the middle of your fishing trip?
Swap your unreliable trolling batteries for a powerful Abyss Battery® 24V 100Ah Group 49 Battery. This single lithium battery is compact, lightweight, and will free up storage space on your boat by replacing two 12 volt Lead-acid or AGM batteries in series.
Whether you're trolling in calm weather or fighting the wind, this battery will back you up even with load-heavy consumption. Ideal for deep cycle applications in diverse marine environments, seasons, and temperatures, The ABYSS® 24V 100Ah Lithium Trolling Motor Battery gives you a long and steady draw to last even for multi-day fishing trips. 
Just set it, charge it, and off you go. Tight lines!
Design Features:
Higher qualified cylindrical cells 🔋
UL1642, IEC62619, IEC62133 listed with Cycle life more than 3000 times and excellent consistency.
Bluetooth® Connectivity 📲
Monitor the battery status (charge, discharge, current, temperature, cycle life and so on) and change the data for different applications.

Uniform internal heating is an important feature of our cold-weather performance batteries, as many external heating blanket options currently available cannot sense the internal temperature of the cells and may not be completely effective at heating the battery throughout. The system features proprietary technology that draws power from the charger itself, requiring no additional components. The entire process of heating and charging is completely seamless. Simply plug the battery into the regular lithium charger and the internal heating and monitoring system takes care of the rest.
More stable and firm internal structure ⚙️
The cell holders within our battery protect and separate each cell to avoid any short circuit risks caused by intense vibration or impact. The separation and space created between each cell also improves the overall heat dissipation within the battery pack while charging and discharging.
24V 100Ah Battery Datasheet
| | |
| --- | --- |
| Technical Specifications | Details |
| Nominal Voltage | 24V |
| Nominal Capacity | 100Ah |
| Parallel Connection | Maximum 4 units |
| Serial Connection | Maximum 2 units |
| Bluetooth Management System (BMS) | 8S100A (Available on Android/iOS) |
| Charge Voltage | 28.8±0.4V |
| Standard Charge Current | 20A |
| Fast Charge Current | 50A |
| Max. Continuous Discharge Current | 100A |
| Peak Discharge Current | 700A (300ms) |
| Discharge Cut-off Voltage | 20V |
| Cycle Life | 3000 cycles @ 100% Depth of Discharge (DOD) and 6000 cycles @ 80% DOD |
| Self Discharge Rate | Less than 3% per month |
| Charge Efficiency | 100% @0.2C |
| Discharge Efficiency | 98-100% @1C |
| Operating Charge Temperature Range | 0°C to 55°C (32°F to 131°F) |
| Operating Discharge Temperature Range | -20°C to 60°C (-4°F to 140°F) |
| Storage Temperature Range | -5°C to 45°C (23°F to 113°F) |
Physical Specifications
Dimensions: 490×171×240mm
Approximate Weight: 22 KG
Terminal Type: M8
Case Color/Material: Black Plastic case (ABS)
IP Rating: IP65
Cell Type: Cylindrical LiFePO4 cell
Cell Holder: Yes
Additional Information
The battery features Bluetooth connectivity, allowing for monitoring via Android and iOS devices.
Compliant with international standards including UL 1642, IEC62133, IEC62619, CE, UN38.3, and ROHS.
Implemented strict quality control measures ensure reliability and consistency.
Abyss Battery® strives to make the safest and most reliable lithium iron phosphate batteries for the most demanding environments, that's why our batteries are only made with certified components and used in applications around the world. All Abyss Lithium batteries conform to the standard entities and regulations listed below. 
All Abyss Batteries meet and exceed 
The American Boat & Yacht Council (ABYC)
standard for lithium ion batteries. The ABYC council is an organization that develops voluntary global safety standards for the design, construction, maintenance, and repair of recreational boats.
We only use cells listed with UL standards entities. 
QUALITY AND ENVIRONMENTAL MANAGEMENT SYSTEMS (ISO Certified)
ISO 9001:2008 Quality Management System
ISO 14001:2004 Environmental Management System
IEC/UL 62133
IEC62133 certifications and additional laboratory services are available as required by our OEM clients.


Abyss Battery®, Inc manufacturing process is compliant and licensed on a international level by TÜV Rheinland for Functional Safety as a result of exposure to harsh marine environments such as vibration, impact, ignition protection, water ingress and salt spray corrosion common on pleasure craft and boats. TÜV Rheinland stands for safety and quality in virtually all areas of business and life. TÜV Rheinland's highly qualified experts test technical systems and products around the world, support innovations in technology and business, train people in numerous professions and certify management systems according to international standards. In doing so, the independent experts generate trust in products as well as processes across global value-adding chains and the flow of commodities. Since 2006, TÜV Rheinland has been a member of the United Nations Global Compact to promote sustainability and combat corruption.
UN/DOT 38.3: Lithium Battery Transportation
All Abyss Battery®, Inc. Lithium Batteries are required to pass section 38.3 of the UN Manual of Tests and Criteria, to ensure the safety of using products for our end users and for shipping purposes. 

We are proud of our investment to ensure our products have been UN38.3 certified.
T1 – Altitude Simulation
This is low pressure testing that simulates unpressurized airplane space (cargo area) at 15,000 meter altitude. After storing batteries at 11.6kPa for >6 hours, these criteria shall be met: no mass loss, leaking, venting, disassembly, rupture or fire, and voltage within 10% of pre-test voltage.
T2 – Thermal Test
This test covers changes in temperature extremes from -40°C to +75°C.  Batteries are stored for 6 hours at -40°C (12 hours for large cells/batteries), then 6 hours at +75°C (12 hours for large cells/batteries), for a total of 10 cycles. Testing may be performed in a single chamber or thermal shock chamber, but less than 30-minute transitions shall be used. 
T3 – Vibration
This test simulates vibration during transportation.  Test is a Sine Sweep: 7Hz – 200Hz – 7Hz in 15 Minutes; 12 Sweeps (3 hours); 3 mutually perpendicular axes. 
T4 – Shock
This test also simulates vibration during transportation.  Test is a Half-Sine pulse: 150G/6ms for small cells/batteries; 50G/11ms for large cells/batteries; 3 pulses per direction; 6 directions (+/-z, +/-x, +/-y).  Same pass criteria as T1.
T5 – External Short Circuit
This test simulates an external short to the terminals of the cell or battery. At temperature of +55°C, apply short circuit (<0.1ohm) across terminals.  Maintain at least an hour after sample temperature returns to +55 +/-2°C.  Pass criteria are: Case temperature does not exceed +170°C and no disassembly, rupture, or fire within 6 hours of test.  Fuse, current limiting circuit, and venting mechanism activation are allowable.
T6 – Impact
This test is only applicable to primary and secondary cells.  For cylindrical cells >20mm diameter, it simulates impact to case of cell. For cylindrical cells <20mm diameter and all other cell constructions, it simulates crushing of a cell. Pass criteria for any type is: Case temperature does not exceed +170°C & no disassembly or fire within 6 hours of test.
T7 – Overcharge
This test is for secondary or rechargeable batteries only.  It simulates an overcharge condition on a rechargeable battery: 2x the manufacturer's recommended charge current for 24 hours.  Then battery shall be monitored for 7 days for fire or disassembly.
T8 – Forced Discharge
This testing simulates a forced discharge condition for primary and secondary cells only.
Click the links below to view and download owner's manuals and instructions for your Abyss Battery® products.
Thank you for taking interest in the products we offer at Abyss Battery. This Limited Warranty applies to physical goods, and only physical goods purchased from Abyss Battery. We recommend you protect your investment and register your warranty.
If your battery is not registered within 90 days of purchase, warranty will begin at manufacture date of battery. Proof of ownership is required. Warranties are not transferrable. Unlike other Lithium battery companies, Abyss Battery has additional support through the purchase of our Extended Warranty program.
Warranty types:
| | | | |
| --- | --- | --- | --- |
| Warranty | Coverage | Period | When expired |
| Manufacturer's Limited Warranty | Warranty
Coverage | 5-Year Free Replacement | After 5 years, 35% Off a New Replacement up to 10-Years |
| Extended
Warranty | Extended
Coverage | 7-Year Free Replacement | After 7 years, 50% off a new Replacement
For Life |
Electric Fishing Reel Batteries and Marine Lithium Battery Chargers both have a 2-Year Free Replacement Warranty. 


Enjoy 7 years of peace of mind when you buy ReCharge+ for your Battery. ReCharge+ for Abyss Battery® Extends your Free 5-Year Replacement Coverage by 2+ additional years from your purchase. In addition to a free battery replacement, you'll get 24/7 priority access to our Battery experts by chat or phone.(only applies to marine batteries, does not include reel batteries or marine chargers)
One stop for support
24/7 priority access to Battery experts by chat or phone
Global repair coverage
Onsite repair for Batteries: Request that a technician come to your work site
Mail-in repair: Mail in your Battery using a prepaid shipping box provided by Abyss Battery
Carry-in repair: Bring your Battery in to our Authorized Service Providers
How to Buy?
Purchase ReCharge+ for $199.99 with your New Battery.
Or buy it within 60 days of your Battery purchase:
Online: Add extended warranty to your shopping cart when you checkout.
By calling: 1+ (855)-719-1727
What does Limited Warranty cover?
We guarantee that every battery sold by us or any of our authorized dealers and OEM distributors, to be defect free from the date of purchase. Our Li-ion Batteries are designed to be a drop-in replacement for lead-acid and AGM battery applications. This Limited Warranty covers any defects in materials and workmanship under normal use during the Warranty Period. During the Warranty Period Abyss Battery will repair or replace, at no charge, products or parts of a product that proves defective because of improper workmanship, under normal use and maintenance.
What will we do to correct the problems?
In the unlikely event your battery is defective we will repair or replace the battery. If the battery is repairable, it will be repaired at no cost and returned to you. If it is not repairable and the issue was caused by a manufacturer defect, we will replace the battery at no cost within the first 5 years. After 5 years, we will repair your battery at no cost to you if the battery is repairable. In the unlikely  it is not repairable, we will prorate the cost of a new replacement battery for you at 35% off the cost of a new one.
In some cases, your warranty claim may require special order parts and it can take about 2 weeks for us to get the necessary parts and components. If a customer requests a replacement battery right away, the customer will temporarily pay for a replacement and a credit will be issued once the warranted battery is received and found to be defective or in need of repair.
How long does the Warranty Last?
The Warranty period for physical goods purchased from Abyss Battery is 3,650 days (10 years). 
A replacement battery assumes the remaining warranty of the original battery or 10 years from the date of purchase. 
What does this Limited Warranty not cover?
This Limited Warranty does not cover any problem that is caused by: 
Conditions, malfunctions, or damage not resulting from defects in material or workmanship.
Damages from shipping.
Damages caused by abuse/neglect (DO NOT JUMP START!)
Loose terminal bolts.
Corroded hardware.
Failure to improperly install the battery. 
Tampering or removal of manufacturer codes.
Properly charging and maintaining the battery.
Breakage from collision.
Improper storage, which includes damage from water, extreme heat or freezing temperatures.
All bolts must be tightened with a torque wrench and NOT by hand to avoid overheating caused by a loose connection.
Use approved and authorized chargers only. 
What do you have to do?
All products purchased must be registered within 90 days of purchase or have an original purchase receipt in order to be eligible for a warranty. If neither of these things are true Abyss Battery reserves the right to deny any warranty claim.
All warranty claim batteries must be returned to and received within the warranty period.
All shipping of return items and replacement items are the customer's responsibility unless deemed a manufactured defect.
All RMA shipments must be sent with proper Hazardous Goods Paperwork. Shipping your battery back to Abyss Battery without proper paperwork and RMA identification may lead to the loss of your item or the denial of your warranty claim.
The customer bears the responsibility to properly package the warrantied item so that it will not be damaged during the shipping process. We recommend keeping the original boxing or request a replacement box and use a approved hazmat certified shipping department. Abyss Battery will not bear responsibility for the customer not following the regulated rules and guidelines in returning a battery for a warranty claim. This includes the classification of certifying your warranty claimed item as Dangerous Goods along with the proper packaging, labeling, and using qualified shipper to return the product back to us for assessment.
Battery Management System
All of our lithium batteries include a built in battery management system. Our BMS operating system is designed to sense short circuit, reverse polarity, overcharge, and over discharge voltage protection. The BMS prevents failure and will internally disconnect to prevent damage to the cells if it senses any of the following conditions. If your battery has disconnected. Please contact us through the form below and we will guide you through the steps necessary to resolve the issue.
Back Orders
Some products may not be readily available and must be ordered from our factory. Within 48 hours after you place your order we will notify you by phone or email if the item is on back order and provide you with the expected ship date. If the products have not yet shipped you can cancel your order anytime. Production delays do happen and we apologize in advance. Abyss Battery will do everything to help you get your products as soon as possible.
Return Policy
If you have not used or unboxed your product you are eligible for a refund. Abyss Battery must receive the items you wish to return within 30 days of purchase. If we do not receive your battery with in the time frame a refund will not be issued. Once we receive the items with in the 30 day time frame your refund will be processed. The customer is liable for all shipping expenses and a 20% restocking fee. Abyss Battery values our commitment to excellent customer service and it is our top priority. Please contact us if you have further questions about our warranty and return policy.
Warranty Disclaimer
Customers should adhere to all documentation and guidelines.  will not be responsible for any expenses related to installation/removal, electrical system tests, battery charging, loss of time or other expenses which should be considered incidental damages, including all shipping charges after the first 30 days of warranty. 
This warranty applies under conditions of normal use. The warranty does not cover: 1) defects caused by improper assembly or disassembly; 2) defects occurring after purchase due to product modification, intentional damage, accident, misuse, abuse, negligence or exposure to corrosive elements; 3) cosmetic damage and 4) labor or assembly costs. Except as provided herein, Abyss Battery, Inc. makes no express warranties, and any implied warranty, including without limitation any implied warranty of merchantability or fitness for a particular purpose, is limited in its duration to the duration of the written limited warranty set forth herein. Except as provided herein, Abyss Battery, Inc. shall have no liability or responsibility to the purchaser or any other person or entity with respect to any liability, loss or damage caused or alleged to be caused directly or indirectly by use of the product, including, but not limited to, any incidental or consequential damages. Some states do not allow limitation on how long an implied warranty lasts or the exclusion of limitation of incidental or consequential damages, so the above limitation and exclusion may not apply to you. This warranty gives you specific legal rights. You may also have other rights which vary from state to state.
THE WARRANTY CONTAINED HEREIN IS THE EXCLUSIVE WARRANTY MADE BY ABYSS BATTERY®, INC. AND THERE ARE NO OTHER WARRANTIES, EXPRESSED OR IMPLIED, INCLUDING A WARRANTY OF FITNESS FOR A PARTICULAR PURPOSE OR OF MERCHANTABILITY MADE WITH RESPECT TO SUCH BATTERIES. ABYSS BATTERY, INC. IS NOT LIABLE FOR ANY INJURY OR MISHAPS SUSTAINED IN THE USE OF THIS PRODUCT. THE USER OF THIS PRODUCT ACKNOWLEDGES ASSUMED RISKS AND WAIVES ANY AND ALL CLAIMS AGAINST ABYSS BATTERY, INC. AND ANY OF IT'S AGENTS.